Hitting Program: More Power, More Often
More Power, More Often!
 Next Available January 2024

Unleash the full force of your swing and revolutionize your baseball hitting abilities with this state of the art program. Developed by seasoned baseball coaches and performance experts, this comprehensive training regimen is strategically designed to amplify your rotational power catapulting your hitting game to unprecedented heights.
This program will leverage state-of-the-art techniques and science-backed exercises that focus on enhancing your core strength, rotational speed and overall athleticism. From weighted rotational exercises that build muscle power to dynamic stretches that optimize flexibility, every facet of your hitting mechanics will be honed for peak performance.
Our hitting program focuses on three essential metrics for performance.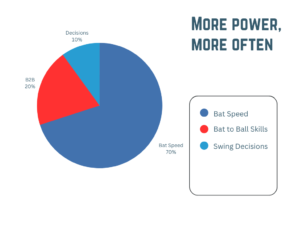 This program is crafted to cater to athletes of all levels – from aspiring young sluggers to seasoned veterans aiming to dominate the game. Our team of dedicated instructors will be there to guide you every step of the way offering personalized coaching and performance analysis to ensure you stay on track and achieve your hitting goals.
Featuring:
Initial Assessment:

Biomechanical Assessment
Stride Length
Stance Width
Kinematic Sequence
Time To Contact
Pelvic Rotation Speed

5 Following Training Sessions:

We use the detailed assessment to create a training program that is specific to you.
The training sessions include:

Hip shoulder separation drills including the Core Velocity Belt
Sequencing Drills with tee work, short toss and high speed pitches
Weighted Bat Training
Multiple Plyoball weight and size balls for improved 'feel' training
We utilise the same high performance technology as MLB teams:
Step up to the plate and witness the evolution of your rotational power so you can "grip it & rip it". The competition won't know what hit them when you start smashing balls with unrivalled force. Are you ready to take your hitting prowess to a whole new level? Let's swing for the fences together!
Cost: The total cost of this program is $349 for 6 weeks.